Does your content engage?
How do you measure whether your digital magazine is a success? Sure, you know how many visitors you get. But impressive page views are just the tip of the iceberg. A lot of traffic means you're reaching a lot of people. But which content is getting through to them? How does your content impact your readers, how do they respond to it? This is your visitors' engagement, and you can measure it. In this blog I'd like to share four ways for measuring whether your content is engaging.
1. Check the scroll depth
Page views tell you how many people have visited a particular page, but they don't tell you whether your readers found your content to be interesting or not. Scroll depth is an important metric in this regard. What proportion of your visitors scroll though 75% of a page, or even 100%? The further your visitors scroll, the more interesting they find a particular page. You can use scroll depth to gauge how your magazine is performing. Do your readers only scroll to 50%? Then the text may be too long or simply not all that interesting. Take a critical look at the ratio of image to text, or try these suggestions to jazz up your content.
You can check scroll depth in Google Analytics at: Behavior> Events> Overview> Scroll. Choose the Primary dimension: Event label and Secondary dimension: Page title.
2. Check the read duration
Estimate how long it will take to read all the text on each page. First get a word count (tip: click 'Words' in the status bar of MS Word). Divide that number by your readers' average reading speed expressed in words per minute. The table below shows the average speed for different readers:
These numbers have been measured in a situation without any distractions. To make sure you make the right conclusions you should assume your average visitor will read at a rate of about 200 to 250 words per minute.
You can use this information to see whether your visitors actually read your content or just click through. For example, if a page in a magazine for college students contains 900 words, but the visit duration is only 25 seconds, then the target group is clearly not all that interested in the text. Read our tips for aligning your content to the needs of your target audience.
Analyse engagement on pagelevel
Because the average visitor duration doesn't give the right indication per page, you should analyse the read duration for every page. Do this by creating a segment per page. Click on + Add segment, on + New segment proceed by clicking Advanced > Conditions. As a filter choose Page title, set it to exactly matches and as Page title enter the title which you see in your browser tab when you have that page opened. For example with the intro cover in our All templates magazine we would use All templates - Intro cover as Page title.
After you've made your page segments go to Audience > Behaviour > Engagement. On this page you'll see how long visitors stayed on the pages. Do the most of them stay for 11-30 seconds or longer? In the example below you'll that most of the visitors stay 61-180 and 181-600 seconds on the page. This will give you a more precise indication of the read duration!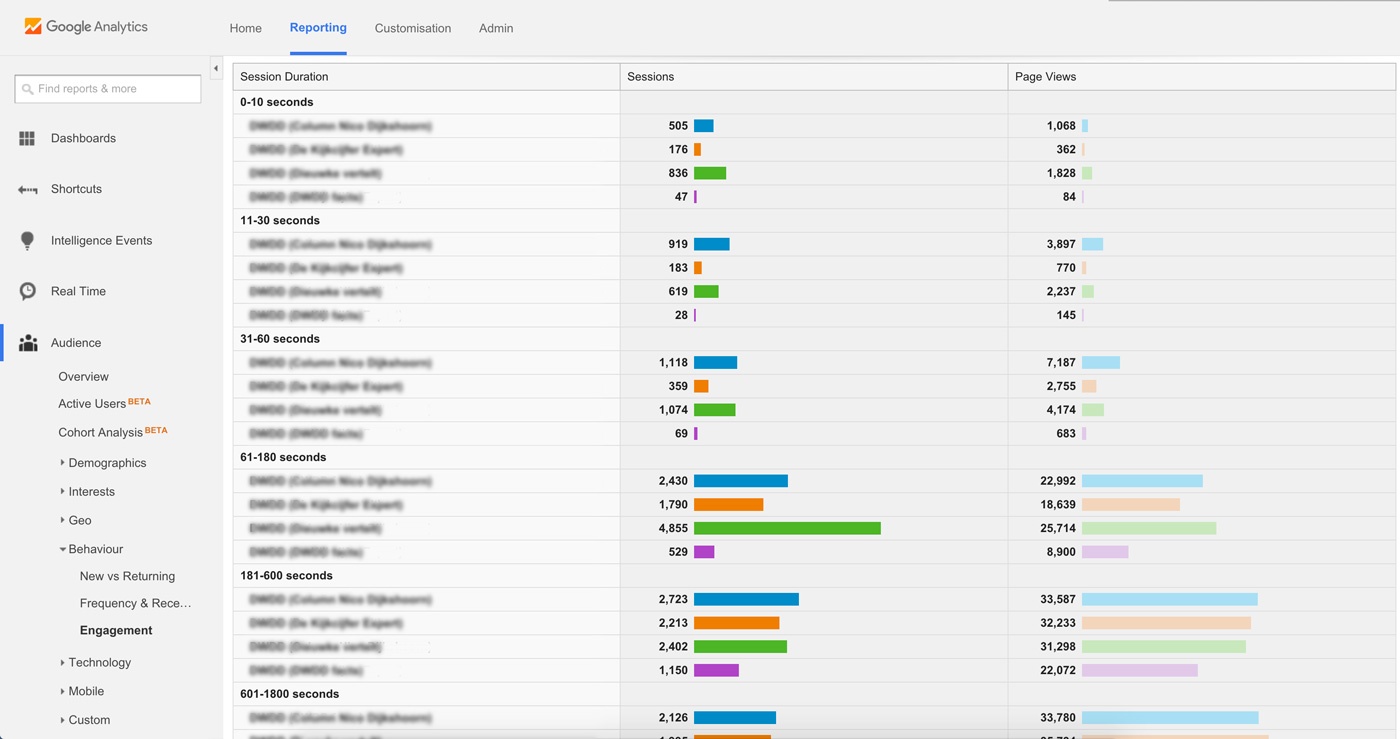 3. Check the shareability
How often does your magazine get shared? Which pages get shared? What channels do people use to share them? Shareability is another reliable indicator of engagement. The better your target group likes your magazine, the more it will get shared.
You can check the number of shares in Google Analytics at: Behavior> Events> Overview. Choose the Primary dimension: Event action, Secondary Dimension: Page title, then search on share.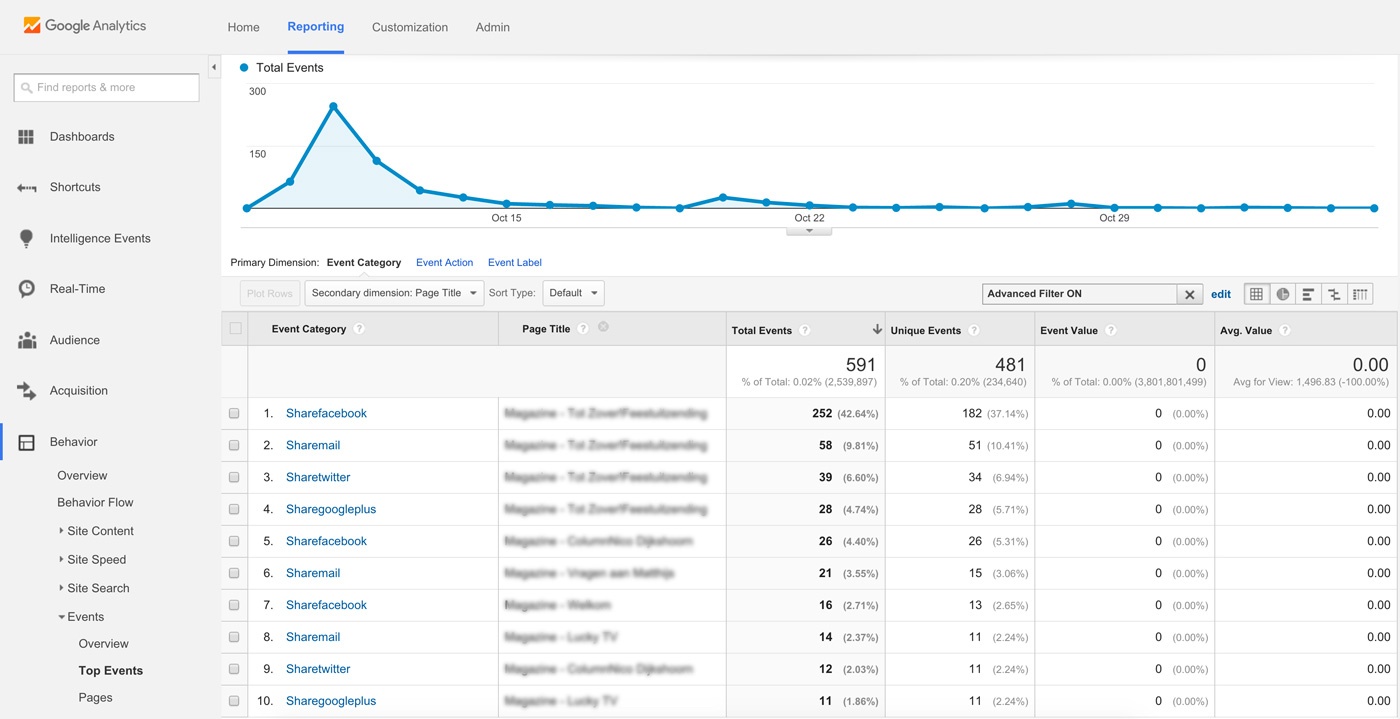 4. Check returning visits
How often do visitors return to your magazine? You can measure repeat visits to see if your content is really reaching your target group. The more often readers view your magazine, the more interesting they find your content. Do they return to your magazine multiple times, or do you notice that they consult specific pages on multiple occasions? You can use this kind of information to identify relevant topics and to retarget specific visitors (or groups of visitors) with content that is aligned to their interests.
Analyse new vs. returning visitors via Audience > Behaviour > New vs Returning. Use this page to check out the differences in the number of visited pages per session and the average session duration.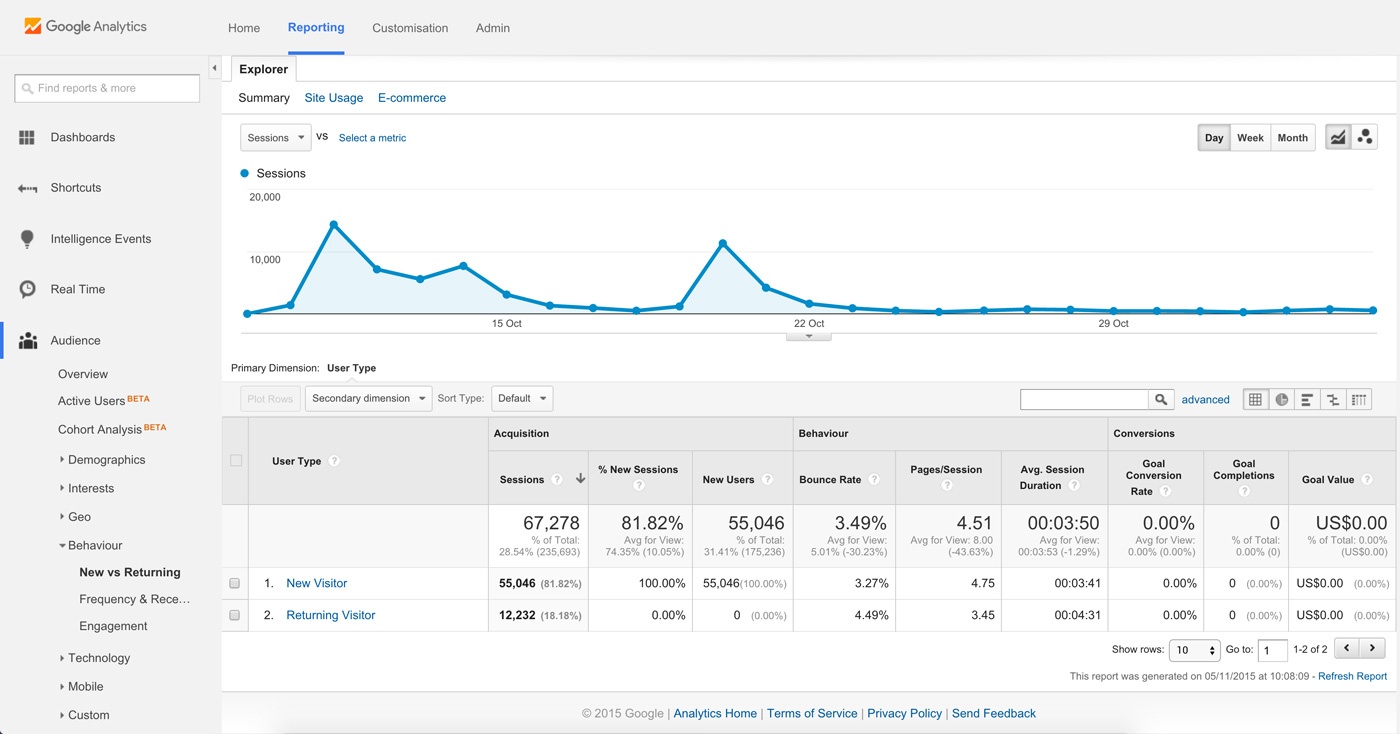 Engage!
A high reach among your target audience is great, of course, but you'll benefit more from higher content engagement. Clearly, there is more than just one way to increase engagement across all of your content. Nevertheless, focussed metrics will give you valuable insights into what interests your readers, what motivates them and what inspires them. You can then use these insights to make substantiated content choices. Those choices will help you to achieve your aims such as greater brand awareness, more leads or a higher rate of conversion.
Do you have any other ideas for measuring engagement? Or would you like to talk about something else? Contact me at dennis@instantmagazine.com or call +31 (0)20 303 2822.
Want to start right away? Register for a 7-day free trial and discover the endless possibilities our tool has to offer.