Measure content engagement
Personalize with social login
No developers or designers needed
Perfectly responsive on all devices
Capture Qualified Leads with Digital White Papers
Produce highly engaging white papers, and achieve dazzling results every time.
Sign up for a free 7 day trial. Plans start at $150/mo.
Trusted by 1200+ Leading Brands
Powerful Drag & Drop Editor
Find the content you like, and simply place it where it needs to go. You can also choose from dozens of page presets, pre-filled content blocks, and animations. Once your content is complete, drop in social sharing buttons and take advantage of our server-side rendering for blazing speed and robust SEO.
Create Mobile-Friendly White Papers
Over 55% of today's internet traffic comes from mobile devices. To reach your audience effectively, Instant Magazine enables responsive design without the need for a developer or designer.
Capture Qualified Leads
Gate your white paper with a form or a social login to ensure the information your leads provide is accurate. Use our Facebook and LinkedIn integrations, and automatically enrich your CRM with valuable data. Now you can easily build a contact list of leads who are ready to be contacted or otherwise nurtured.
Personalize to Enhance Lead Quality
Our clients have seen a 71% increase in reading time and a 75% increase in social shares

with relevant, uniquely personalized white papers.

F

rom addressing readers by name to tailoring content to their industry, don't miss a chance to engage and convert.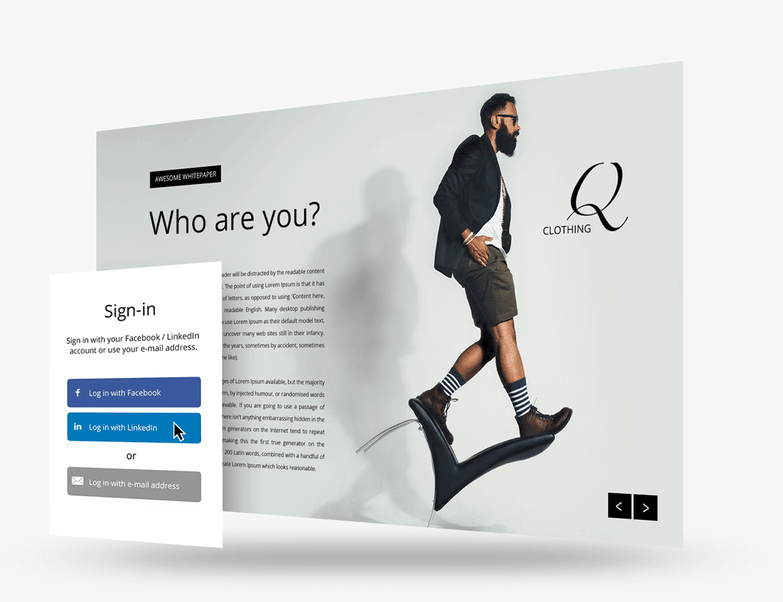 Get Detailed Analytics
Connect your white paper to Google Analytics to measure reading time, scroll depth, video plays, social sharing and more.
See exactly how and when leads engage

on each individual page
, and use this data for continuous improvement. In no time, your content will be sticking in prospects' minds and driving them to convert into customers.
Update Live White Papers
No one said that publishing your digital white paper means the improvement process is over. Never worry about catching a typo or updating your content to keep it timely. With Instant Magazine, you can seamlessly edit live publications.
Add Engaging Visuals
Visuals are what your prospects will remember.
Instant Magazine users have seen engagement grow by up to 400% by adding full-screen video backgrounds and including interactive elements, such as forms.
Get Started Quickly
Our templates can be completely customized to match your brand identity.
Use our professionally designed templates, and create digital white papers fast, without the support from a development team.
What our customers are saying
At Tentoo we were looking for a solution by which we could present our white papers in a visually attractive way, and also measure the results. Instant Magazine is perfect for this. The usability of the platform is very intuitive. You can quickly create digital publications that are perfectly responsive and fit your house style without any prior design expertise.